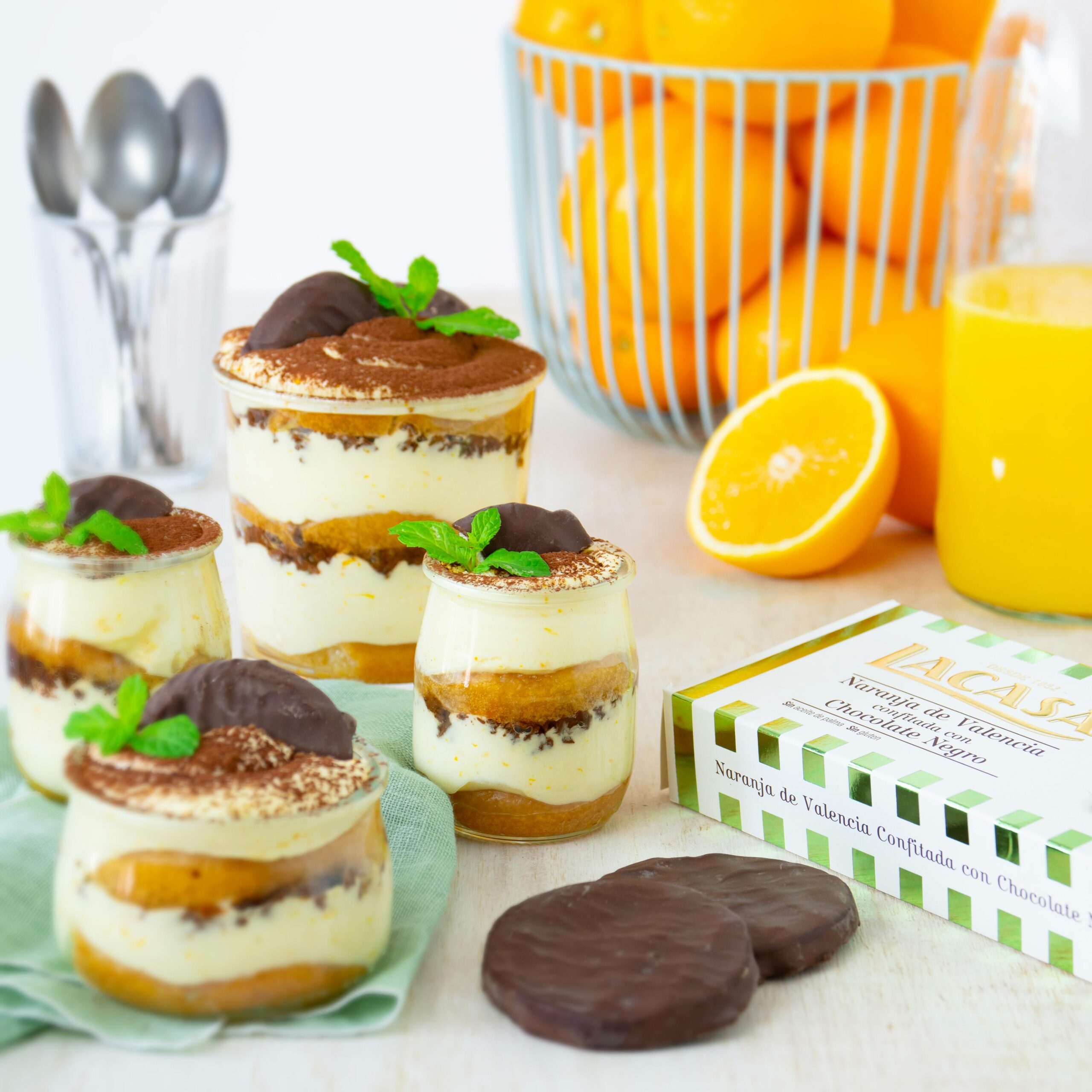 Oranges and chocolate tiramisu
Oranges and chocolate tiramisu
FOR 10 SERVINGS
4 eggs
150 g sugar
100 g whipping cream
500 g mascarpone cheese
4 g gelatine sheets (1 sheet)
c/s orange zest

FOR THE SYRUP
150 ml cointreau (or 75 ml of water and 75 ml of cointreau)
100 g sugar
150 ml orange juice
18/20 Cylinders
Cocoa powder or grated chocolate for decorating
c/s Lacasa chocolate oranges (to decorate)
c/s chopped Lacasa chocolate oranges (for the filling)
c/s pure cocoa powder for sprinkling

FOR THE SYRUP
Prepare the syrup to bathe the biscuits: put the sugar and the cointreau in a saucepan. Heat until it boils and the sugar has completely dissolved. Remove from the heat and add the orange juice. Set aside.
Separate the egg whites from the yolks. Whip the egg whites with half the sugar and set aside. Hydrate the gelatine leaves in cold water. Set aside.
Put the cheese in a bowl and add the cream and the orange zest. Mix well and set aside.
Whip the egg yolks with the rest of the sugar until they have whitened and the sugar has dissolved. Add them to the cheese and cream mixture in two batches, stirring very carefully. Drain the gelatin well, melt it for about 10 seconds in the microwave and add it to the cheese mixture.
Finally, add the whipped egg whites in two batches and mix carefully.
ASSEMBLY
In a 25 x 25 cm dish or in individual molds, place half of the honeydew cakes. Bathe them abundantly with syrup and cover them with half of the mascarpone mousse.
Cover with chopped Lacasa chocolate oranges. Arrange the rest of the marshmallows on top, previously soaked in syrup, and finish by covering them with the rest of the mousse. Place in the refrigerator and chill for at least 4 hours before serving. Serve sprinkled with cocoa and decorated with oranges with Lacasa chocolate.