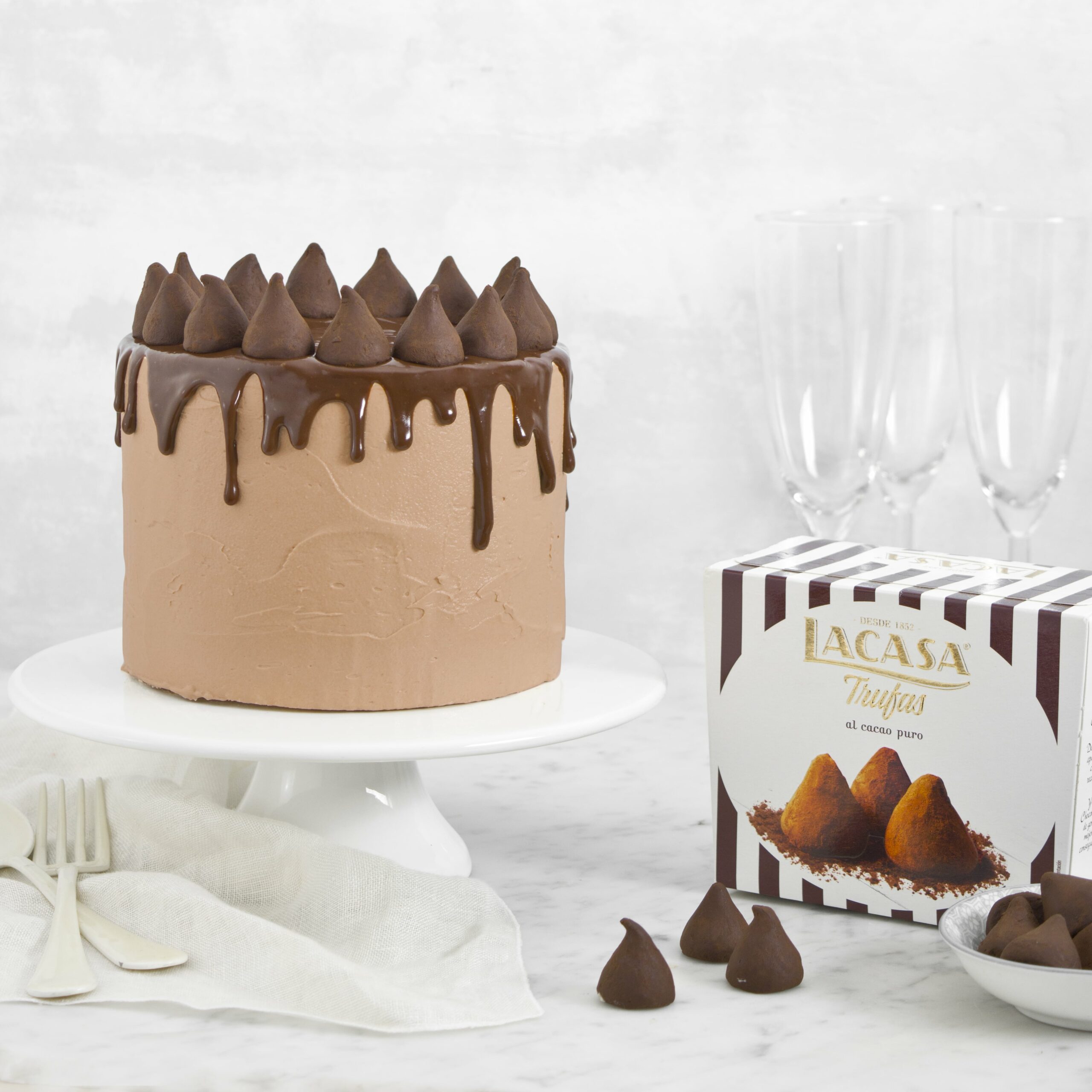 Lacasa chocolate truffle cake
Lacasa chocolate truffle cake
FOR THE BASE
200 g 70% Lacasa chocolate
250 g butter
350 g brown sugar
5 eggs
140 g flour
1 teaspoon of baking powder

FOR ASSEMBLY
225 g 70% Lacasa chocolate
225 g whipping cream
300 g whipping cream
Lacasa Truffles

FOR THE BASE
Melt the chocolate in a double boiler or in the microwave.
Beat the butter with the sugar until smooth and foamy. Add the eggs one at a time, beating well in between. Slowly pour in the previously melted chocolate and mix well. Finally, add the sifted flour with encircling movements.
Divide the mixture into two 20 cm diameter cake pans previously buttered and floured.
Bake at 150ºC for 35/40 minutes or until a knife or skewer comes out clean.
FOR ASSEMBLY
Melt the chocolate in the microwave by heating it in short intervals and stirring in between, to prevent the chocolate from burning. You can also melt it in a bain-marie by placing the bowl of chocolate over boiling water, but with the heat turned off and the base of the bowl away from the hot water.
Heat 225 g of whipping cream to boiling point and pour it over the melted chocolate. Stir until well blended and allow to cool.
Put 300 g of the cold chocolate cream in a bowl and reserve the rest for decoration. Add 300 g of cold whipping cream and whip, being careful not to over whip as it may cut.
Assemble the cake by filling it and covering it with the whipped cream. Let it cool in the refrigerator or freezer for at least one hour. If the remaining chocolate cream has hardened too much, warm it for a few seconds in the microwave (making sure it is not hot, just to make it more fluid) and cover the top of the cake, letting it fall over the sides. Decorate with Lacasa chocolate truffles.