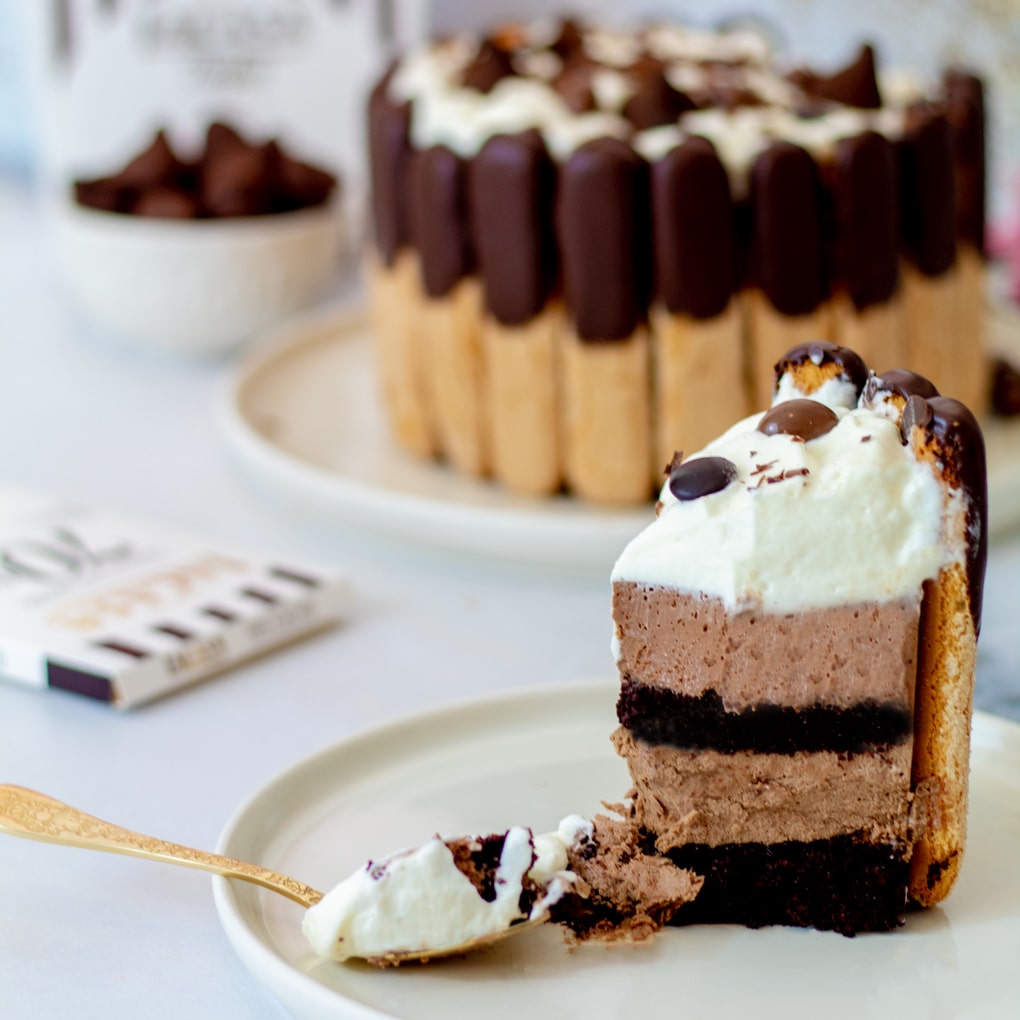 Chocolate Charlotte
Chocolate Charlotte
FOR THE CAKE
100gr wheat flour
150 gr panela sugar
40gr unsweetened cocoa powder
120 ml of whole milk
50 ml of strong and hot coffee
45 ml sunflower oil
1 egg
1 teaspoon of baking soda
1/2 teaspoon of baking powder
1 pinch of salt

FOR MOUSSE
220ml of whole milk
180gr sugar
120gr of egg yolks
400ml whipping cream
4 sheets of gelatin
240gr Lacasa 70% cocoa chocolate
1 teaspoon of soluble coffee

FOR DECORATION
400ml whipping cream
4 tablespoons sugar
1 teaspoon vanilla extract (optional)
Soletilla biscuits
120gr of Lacasa 70% cocoa chocolate
Lacasa truffles
Chocobites
Lacasa Mi Momento pistachio dragées

Recipe created by @renan_cupcakes
FOR THE CAKE
In a bowl mix all the dry ingredients, sifted.
Then add the egg, whole milk and oil and mix well.
Gradually add the hot coffee and mix.
Pour the batter into two greased molds (I used 15 cm diameter molds).
Bake in a preheated oven at 180º and bake for about 25 minutes, you know, every oven is different, so do the toothpick test!
Let it cool down.
FOR MOUSSE
First of all, put the gelatine leaves in cold water to hydrate them.
In a saucepan put the milk and 60gr of sugar to boil, meanwhile, beat the egg yolks with the remaining sugar.
When the milk starts to boil, pour it over the yolks and stir. This process is important to temper the yolks and make them more resistant to heat.
Return the mixture to the saucepan and stir continuously, over medium-low heat, until we reach a temperature of 83º.
If you do not have a thermometer, this is when you run your finger along the back of the spatula and a path is formed, this is what we call puntode nape.
Remove from the heat and pour the mixture over the chopped chocolate, wait about 2 minutes for it to melt, add the hydrated gelatin leaves and mix well.
Whip the cream.
Add 1/3 of the whipped cream to the chocolate mixture and mix well.
The other 2/3 we will add gently, mixing with enveloping movements.
FOR ASSEMBLY
Take a 15cm diameter mold, with a sheet of acetate inside to make it easier to remove from the mold.
Put a disc of sponge cake on the bottom (if necessary, cut the "belly" of the cake with a knife to level it), put half of the mousse on top and put it in the freezer for 15 minutes.
Put the other disk of sponge cake and the remaining mousse, and freeze for at least 12 hours.
Remove our Charlotte from the mold and place it on a serving plate.
Melt 100g of Lacasa 70% cocoa chocolate and dip half of it in our sponge cakes, and place them around our cake pressing lightly.
For a 15cm mold, 13 soletilla sponge cakes were needed.
Whip the cream with the sugar and vanilla and pour it on top.
To finish, grate 20 grams of chocolate with a vegetable peeler, add some dragées, chocobites and truffles to decorate.
Leave it in the refrigerator for about 4 hours to thaw completely ... and enjoy a chocolate Charlotte!